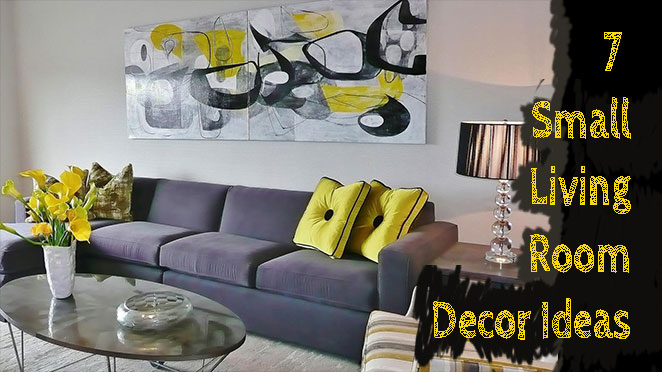 Decorating a modern living room can be tricky. This is especially true for small spaces. Here are some of the best ideas for small living room decor in 2019.
1. Use Task and Accent Lighting
Creative and thoughtful approach to room lighting is what makes a good design great.
There should be a lot of light in a small room. Add additional light sources to the main one. Mix different types of fixtures, each with a distinct function. Use table and floor lamps to provide task lighting. Use spotlights and decorative track lights for accent lighting.

The only limitations are:
Be careful not to break the overall style of the room.
A chandelier should not be too big – that will ruin your efforts to make the small room bigger.

2. Decorate your Walls with Modern Art
Abstract paintings and metal wall sculptures are the perfect choices for wall decoration of a modern living room.
It's important to choose wall art of the right size. Here is a general rule of thumb – a piece of art should take around 50-70% of a wall with no furniture. This way the artwork will not look lost and the remaining area will frame it nicely. If wall decor is above a furniture, it should be the same length or smaller than the furniture.
An artwork should be hung at eye level, approximately 60 inches from the floor. Leave at least a 3-inch to 6-inch gap between the top of your sofa and the bottom of the picture frame.

3. Add a Few Accent Pillows
Adding small intense color spots into a modern living room in white and soft neutral colors enriches the room design.
Let the most of your throw pillows be the same color as the sofa or walls, and add a couple of bright ones, matching other colorful decor elements.

4. Large Mirror in a Small Living Room
Mirrors add a decorative touch to a room. In addition, they bring more light and increase the visual space in your room.

A large wall mirror on a wall can be as elegant as an elaborate painting. Just make sure that it captures the light coming in.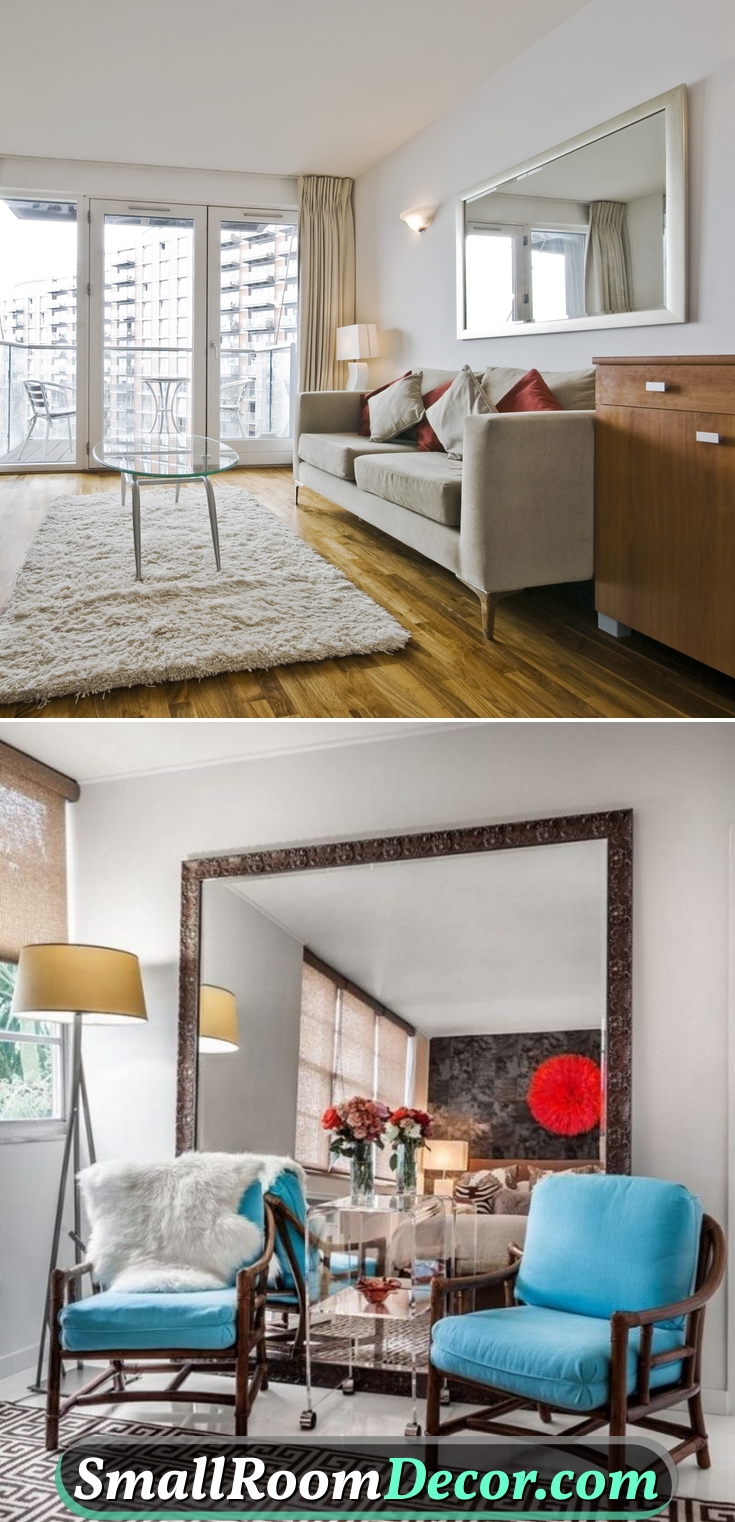 5. Use an Eye-Catching Textured Rug
No wall-to-wall carpeting. Layout a rug in the center of the room and leave the rest of the floor bare for the illusion of a larger room.
The rug will look best if it features your accent colors.

6. Decorate your Living Room with Plants and Flowers
Flowers and plants create color and shape contrast in a modern style interior, which brings more life and energy to it.

When it comes to decorating your home with greenery, only use fresh living plants. Usually, you should choose more minimalist plants, like rubber plants, fiddle leaf figs or even succulents. Orchids will look nice in a room with a minimal design.

7. Choose Accessories that Fit the Room Design Style
Sounds obvious, but it's a very important thing to remember.
You don't want to have candles, antique statuettes or vintage decorations in a modern living room. It's always possible to find paintings, pictures, vases, plants, and other decorations that harmonize with any interior design.